Rip-Off Muffins.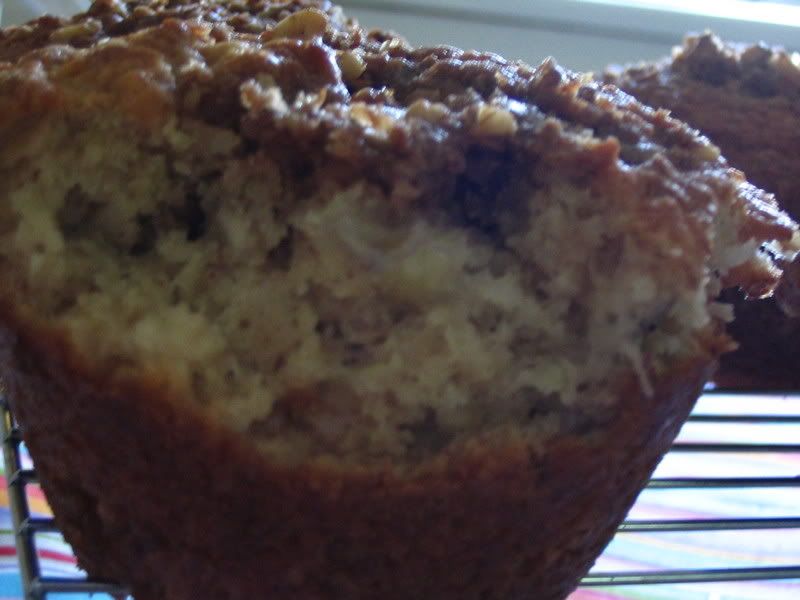 I don't mean they were a rip-off in terms of deliciousness - I mean I totally ripped them off from
Ivonne
and
Jeff
. Well, you can
call
it adapted, if you want to get all fancy, but I really just flat out stole it. And boy are they good! (*pats self on back*)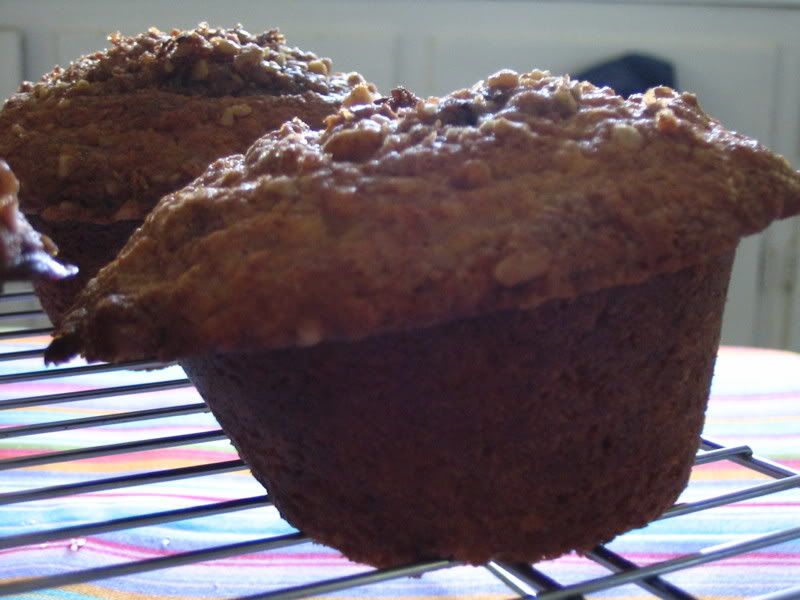 I even took pictures, with our shitty little point and shoot camera. I don't know why we spent all that money on a digital rebel when I've never figured out how to work the thing and the memory card is ALWAYS full. So....maybe they look disgusting, I don't know. But they're not.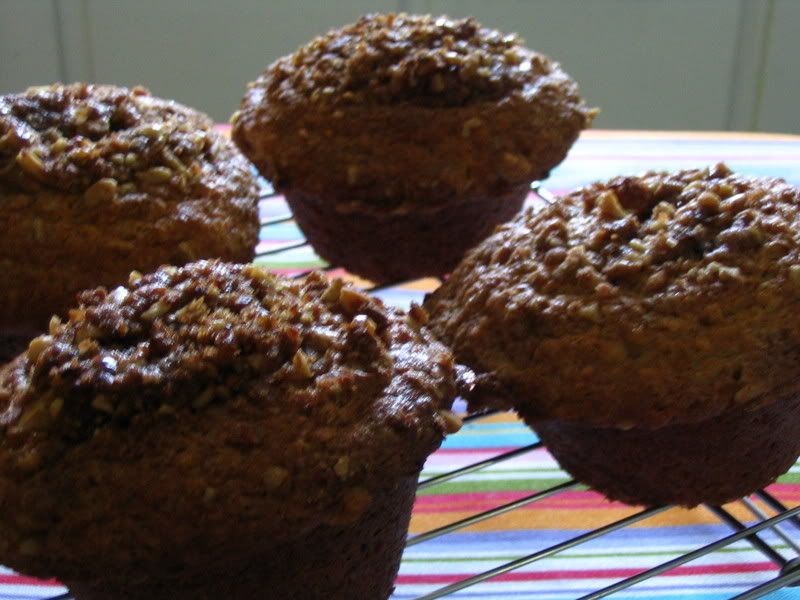 So I took Ivonne's
amazing buttermilk and fruit muffin recipe
and put it together with Jeff's
Tropical Banana Cream Muffins
and came up with this. (And hell yes, I'm going to enter it in
Rachel's Coconut and Lime Birthday Contest
!!)
Streusel:
1 tbs cold butter
⅓ cup packed brown sugar
½ tsp cardamom
½ cup finely chopped walnuts
1/8 cup grated coconut
Muffins:
½ cup peanut oil
1⅓ cups packed brown sugar
1½ tbs grated lime zest
3 tbs lime juice
2 drops lime oil (I used Boyajian)
1 egg
1/2-1 tsp coconut extract
1 cup buttermilk
2½ cups ap flour (plus more if needed)
¼ tsp salt
2½ tsp baking powder
½ tsp baking soda
1¾ cups mashed bananas
1/4 cup grated coconut
Preheat the oven to 400 degrees F and prepare a muffin tin. I have a new giant jumbo cup teflon (I know, I know) muffin tin, so I didn't do anything to it at all, and they slid out beautifully. This makes 6 super-giant coffee shop sized muffins, or 12 normal-person sized muffins.
Mix together the dry ingredients in one bowl and set aside.
In another bowl, combine the oil, brown sugar, lime zest, juice, and lime oil, and egg. Once combined, stir in the buttermilk, coconut extract, and mashed banana.
Add the wet ingredients to the dry ingredients and mix well. The batter should not be extremely thin; if it is add a couple more tablespoons of flour.
Pour the batter into the muffin cups (fill them completely. None of this 2/3 full crap for us; we got a great crown on them!) Top each muffin with its due portion of streusel.
Bake for 15 minutes at 400, then lower the temperature to 350 degrees and bake for an additional 18-23 minutes (for jumbo muffins; for normal ones, do about 13.)
Cool in the pan for 10 minutes, then turn out onto a wire rack.
I'm going to have to post my cruddy pictures tomorrow, b/c I'm too lazy to get up and download them from the camera right now.